Needs Rewrite!
"Um, great job. It's really coming along. Just, perhaps with less swearing, sex and blasphemy and with a bit more...storyline. Otherwise great job."
This article is poorly written or is not formatted correctly and requires a total or partial rewrite.

Scheduled for Lore!
"There's a lot of history in the Realm. Hundreds of thousands of millenia's worth of history can be found in these dark halls. Anybody want some cake?"
This article is scheduled to include a lore entry for the upcoming game, Realm of Magyk.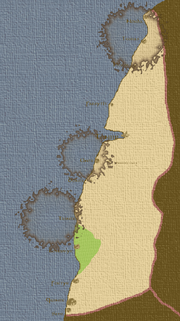 Untr is south-west of
Tonjir
. It is a small village that is known for werewolf residents.
NORTH: Tonjir
EAST: Frozen Wastes
SOUTH: Dontr
WEST: Ocean
Points of Interest
Edit
In Untr, you may want to help eradicate the werewolves in the area. If fighting isn't your style, you can rather help repair wagons that are destined to go to Tonjir.
The Mayor - The mayor is a paranoid man who's condition is only worsened by the werewolf threat.
Frodhi Morniko - The Captain of the Untrian guard, head of the mission to eradicate werewolves.
No quests are started in Untr
Enemies in Untr
Edit
Guards
Werewolves
Wolves
Foxes