Welcome to the Realm of Magyk Wiki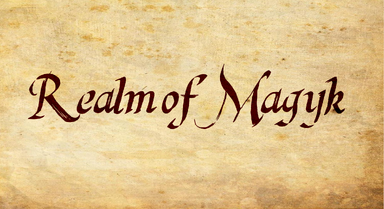 A Wiki on the up and coming game, Realm of Magyk, by Back of the Bakkie Games Studio. PM
Tamlin Lollis Love
 to suggest content.
News
2014/04/25 - The Realm of Magyk Wiki is, for sake of better summarisation, moving away from lore entries sharing a page with what they describe. From now on, lore pages will be separate from what they discribe, with a link to the entry replacing the entry itself.
Latest activity
Ad blocker interference detected!
Wikia is a free-to-use site that makes money from advertising. We have a modified experience for viewers using ad blockers

Wikia is not accessible if you've made further modifications. Remove the custom ad blocker rule(s) and the page will load as expected.