Outdated information!
"Don't follow his directions. One moment you'll be on your way to the temple and the next, BAM! you're naked on a hill in Zakos."
This article contains outdated information about Tales of Ulvania or the upcoming game, Realm of Magyk.

Realm of Magyk is currently being developed as a TC (Total Conversion) for Star Wars Jedi Knight 3: Jedi Academy.
It will feature several multiplayer maps, new weapons, new models, new skins, and a new menu. The entire mod team currently consists of:
M.Eales
, and
Tamlin
.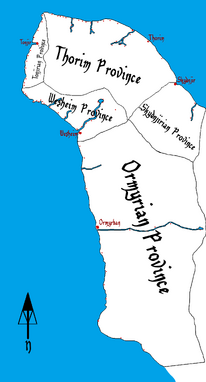 Multiplayer Demo
Edit
The multiplayer demo for Realm of Magyk was released on February 19th 2011 at Realm of Magyk's Moddb page. Moddb News Post
Only the multiplayer demo has been released as of 10 December 2011.
Future Releases
Edit
The Moddb page was not updated for 5 months during 2012, appearing dead.
The Moddb page was updated on 6 April 2012, with map pictures, showing progress. Another release of the total conversion is expected in 2012.